I am a fairly new Zazzle designer. I have only been seriously designing for them for the past seven months. During that time, I have uploaded over 1,400 images to use in my designs.
As I continued to upload images, and my product line continued to grow, I began to have the problem of finding the right images to work with when I needed them. Clicking through page after page of my uploads became very time consuming and frustrating, and I found myself wishing that Zazzle would have designed a better way to organize images.
That's when I realized I had missed something really important. Zazzle does have a
system for organizing images
, and I don't know why it took me so long to discover it. It was actually pretty obvious.
On the
Image page
, in the left column, is an
"add album" link
.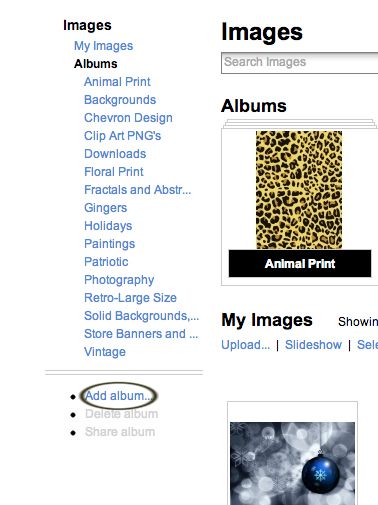 When you click the link, you can name your album. Within each album, you can categorize your images even further by adding new albums.
To place images into your albums
, check the box beneath each image you would like to add to that album, click "add to", and choose your album and (if you choose) your subcategory.
To add an album within an album
- click to open your album, and repeat the process described above by clicking "add album" in the left column, and giving your sub album a name.
I had rushed through adding photos, and had missed this important feature. Organizing 1,400 photos after the fact took a couple hours of my time. It would have been so much easier to have done it from the beginning.
I would also suggest that you give your images titles and descriptions as you upload them. You can then use the "search images" feature to find just the right image, no matter how many you have uploaded.